You and Insurmountability
Jun 26, 12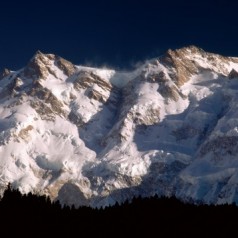 Generosity requires us to stand firm in face of a seemingly insurmountable task.
What stands between you and an insurmountable task is your own fear – possibly your fear of poverty. [Perhaps this is why so many active members of MSA, become inactive after graduating and finding a job, and from those who don't, they become inactive after marriage, and from those who don't, they become inactive after children.]
On one side, desire distracts you; on the other side fear impedes you. Regardless of how much our fear causes us to escape and flee from our responsibility, whatever Allah has written for you in your destiny will reach you. After spending his entire life on the battle field, Khalid Bin Waleed was meeting his death on his bed. He lifted up his garment to show the scars. He said, "I do not have a single part on my body which has not been inflicted by a sword or a spear." And then he threatened, "and here I am, dying like a donkey on my bed. May Allah Almighty give no rest to the cowards. Let them hear my advice."
Rasoolullah advised Abdullah Ibn Abbas, "Be mindful of Allah, you will find Him before you. Get to know Allah in prosperity and He will know you in adversity. Know that what has passed you by was not going to befall you; and that what has befallen you was not going to pass you by. And know that victory comes with patience, relief with affliction, and ease with hardship." [At-Tirmidhi]
You are required to do the impossible.
You don't need permission to do it. You might be overwhelmed by labor, like the companions who were overwhelmed by digging a ditch to protect themselves from the confederates. That didn't stop Rasoolullah to announce the good news of the impossible – that Rome and Persia would lie under the Muslims. You don't need permission of the haters and complainers. You no longer need to fit to the mentality of poverty and stinginess. You no longer need others to design the road map of your life for you.
You only have two choices: (1) to defend the status quo in an environment where everything is changing; or (2) unleash your generosity onto the world so much so that Allah (subhanahu wa ta'ala) calls upon Jibreel to announce that He loves so and so.
You and Insurmountability

,